Description
To order a Letterplate Eco from outside the UK please read our page on international shipping
Tricoya Letterplate Eco
The Tricoya Letterplate Eco is a draughtproof external letterplate made from a sustainable material. It doesn't need springs, hinges or brushes, so it won't chew your post or anyone's fingers.
It works by always presenting a slightly larger surface area to any airflow which then pushes it more firmly shut against its frame. Whether the airflow is windy weather outdoors, a breeze from open windows indoors or a rush of air from internal doors opening and shutting, the Letterplate Eco will remain shut. When focussed pressure is applied, such as a letter or hand pushing against the flap, it opens easily.
It's custom cut to fit your letterbox aperture (the hole through your door). Tricoya is a sustainable carbon-capturing accoya-based MDF. It's weatherproof for a good 60 years. For full information the Letterplate Eco please visit theletterplate.com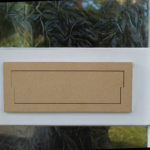 This listing is for a tricoya Letterplate Eco for a horizontal aperture of maximum 260mm wide by 90mm high. Maximum outer dimensions are 300mm wide by 125mm high. Minimum apperture size is 100mm x 45mm . We can etch your family name, house name or number on to the Letterplate Eco.
This Letterplate Eco has no trunking and so is suitable to be fitted onto a solid wood door or glazing bar or similar. Units without trunking aren't suitable for most uPVC doors.
The outer dimensions will be affected by the space available to fit the Letterplate Eco onto. In the example here there is ample space around the Letterplate. Other doors might have a glazing bar or other door furniture affecting the space available
After purchase we will contact you to confirm all dimensions and your etching requirements before we start cutting.
The Letterplate Eco comes without any additional finish. It is weatherproof and draughtproof without anything applied. However you can paint it (we recommend PlastiKote Garden Spray) or apply wax, oil or stain before fitting.