Description
To order a Letterplate Eco from outside the UK please read our page on international shipping.
ABS Letterplate Eco
The Letterplate Eco is a draughtproof external letterplate. It doesn't need springs, hinges or brushes, so it won't chew your post or anyone's fingers.
It works by always presenting a slightly larger surface area to any airflow which then pushes it more firmly shut against its frame. Whether the airflow is windy weather outdoors, a breeze from open windows indoors or a rush of air from internal doors opening and shutting, the Letterplate Eco will remain shut. When focussed pressure is applied, such as a letter or hand pushing against the flap, it opens easily.
Fitting instructions are available here.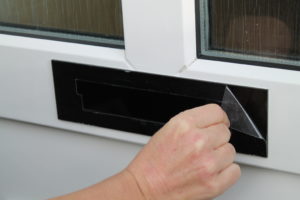 Custom cut
The Letterplate Eco is custom cut to fit your letterbox aperture (the hole through your door). We use durable acrylic-capped ABS, the same material used for car finishes. Your Letterplate Eco will be supplied with protective film on its surfaces, which is removed when fitting is complete.
This listing is for a black Letterplate Eco for a horizontal aperture of maximum 260mm wide by 90mm high. Maximum outer dimensions are 300mm wide by 125mm high. We can etch your family name, house name or number on to the Letterplate Eco and will position this bottom right unless you ask for something different.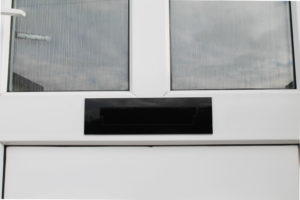 The outer dimensions will be affected by the space available to fit the Letterplate Eco onto. Please take into account a glazing bar or other door furniture affecting the space available.
Trunking
Your Letterplate Eco is available with or without trunking. A solid door eg solid wood or a lined wall will not not need trunking. A composite door will need trunking.
A Letterplate Eco with trunking is supplied with a fitting plate to go over your letterbox aperture on the indoors side. This provides a neat finish. Usually we would supply a fitting plate of the same colour as the Letterplate Eco but we can mix and match black, white and silver, so please let us know if you would like a different colour fitting plate.
After purchase we will contact you to confirm all dimensions and your trunking and etching requirements before we start cutting.
Please allow a fortnight from payment to despatch.