The Petflap, Maxflap and Letterplate Eco – innovative draughtproofing
All three products use the force of any draught to shut more firmly, so the harder the wind blows the tighter they remain shut. All our products achieve draughtproofing without magnets, brushes or springs to force the flap shut, so despite their draught-resisting qualities they will open with the merest presssure. A flyer will go through the Letterplate Eco effortlessly, and the smallest kitten will have no trouble pushing open the Petflap.
The Petflap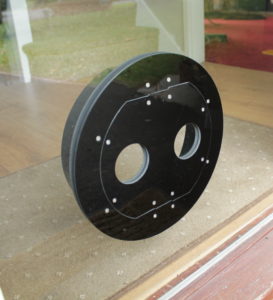 The Petflap was the first product to be developed by our lead designer Richard in the C20th century. Its many iterations and bespoke models have been in use around the world ever since.
The Petflap came into being because Richard was irritated by the noise his cat's pet door made and felt he could do better. The Petflap was the result, but it wasn't until late 2016 that it was mass produced.
The Petflap cuts draughts and eliminates rattles and banging but is easy for even a kitten to open. Its asymmetrical cut means that any airflow pushes the pet access flap more firmly shut against the frame. Because it doesn't use springs, magnets or hinges it's gentle on your pet's paws and tail but hard on breezes and gusts.
Made in the UK and designed to last, a Petflap will make life more comfortable for you and your pets.
The Petflap comes in black, white and silver. Bespoke models are available. We have made square front Petflaps to cover square holes (typically after removing a flimsy top-hung catflap), and models with a larger front plate to cover an existing large circular hole. Please get in touch if you need a bespoke solution for your pet's needs.
The Maxflap
The Maxflap is our pet door designed for larger cats and small dogs. It's made from tricoya, a sustainable and durable accoya-based MDF. You can learn more about tricoya and the many uses it's being put to here.
The Maxflap works on the same principle as the Petflap but is designed for larger pets. It has square trunking and is designed to be set into a door panel.
We suppy the Maxflap with a natural finish, as shown. You can add colour with PlastiKote, oil or stain, but the Maxflap is quite weatherproof without anything additional.
We can supply bespoke Maxflaps. We have supplied one for a cat with a back deformity, and one with a modified closing action to accommodate very nervous rescue cats. We can etch your pet's name or your house name onto the Maxflap at no extra cost.
The Letterplate Eco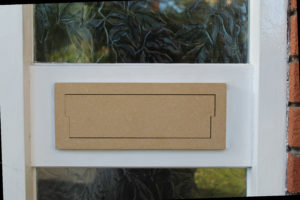 Using the same principles as all our other products, the Letterplate Eco is a robust unit that will give you many years' service as a sleek and draughtproof letterbox.
We developed the Letterplate Eco is response to requests for a visually pleasing letterbox draught excluder. We knew the Ecoflap worked well, but realised it could look better. It fits a wider range of letterboxes than the Ecoflap.
As standard the Letterplate Eco is available in a natural finish tricoya and without trunking. This is suitable for solid wooden doors or glazing bars as shown here, but not for uPVC doors. We can supply an ABS version for uPVC doors (the same material we use for the Petflap) which has trunking. As with the Maxflap, we can etch the Letterplate Eco. Your house or family name can be added on the flap or frame.
In the Letterplate Eco we believe we have developed a letterbox draught excluder that combines form and function perfectly, doing its job reliably and quietly.
The Ecoflap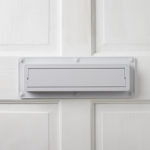 Now discontinued, the Ecoflap was the first of our products to be mass produced (but not the first to be developed). A fit-and-forget draughtproofing measure, you could keep your external letterplate (or treat your front door to one of our elegant Letterplates) and your letterbox continued to work just as it always did but without the annoying rattles, draughts and snags.
Postal deliveries slid through with no effort. No crumpled post. No trapped fingers. No torn newspapers. It could open to take a small parcel or entire telephone directory and as the item went through easily the Ecoflap shut behind itself, carrying on keeping your hallway a draught-freee, even temperature.
This has now been replaced by the Letterplate Eco.
The Letterplate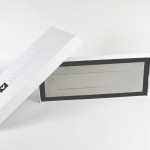 Also now discontinued, the Letterplate was the next of our products to be mass produced, but had been made to order for a little while previous to that. Coming to market formally in mid-2016, the Letterplate was more of an architectural draughtproofing element, designed to enhance any door it graced aesthetically as well as providing all the same energy efficiency benefits as the Ecoflap.
The Letterplate was popular with postal delivery workers as it didn't require a flap to be lifted. The flap pushed in easily and lifted up to accommodate large parcels. The Letterplate was a tremendously effective barrier to noise, draughts and rain with no compromise on appearance. Please contact us to learn more about the cosmetic seconds units we still have available.