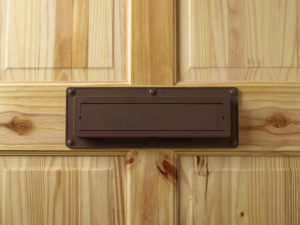 Ecoflap is super-smart British engineering!
After years on the market, the time is right for the Ecoflap to be replaced by a lighter, slimmer external draughtrproof letterplate which will be available very soon.
It uses the force of a draught to shut your letterbox tighter, so the harder the wind blows the tighter Ecoflap remains shut, even in 100mph winds.
With no strong magnets, stiff brushes or vicious springs, when you push something through, it slides in with no effort.
No crumpled post. No trapped fingers. No torn newspapers.
It can open to take a small parcel or entire telephone directory and allow the item to fall from the letterplate and not jam it wide open letting all your heat out.
Choose your Ecoflap colour and get it next day by Royal Mail delivery (order Monday to Friday before 3pm).